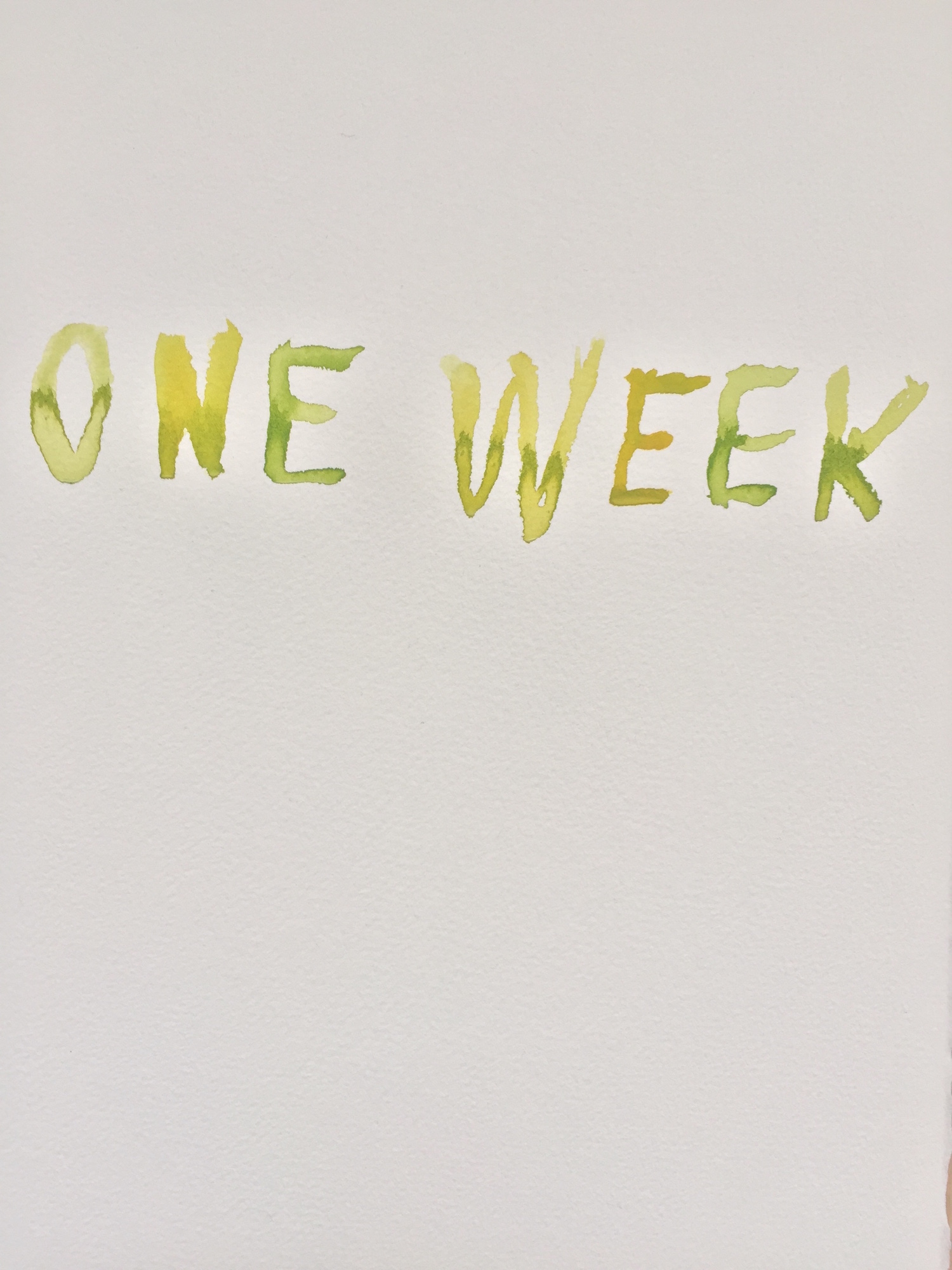 Charbel-joseph H. Boutros
One Week
2018
Watercolor on arche paper
60x80cm

Each day of a week, a letter from the sentence One Week was written, one week was needed to finish the writing.

Charbel-joseph H. Boutros
NIGHT CARTOGRAPHY #3
2017
Airplane's sleeping masks, votive candle's wax, dreams, wishes.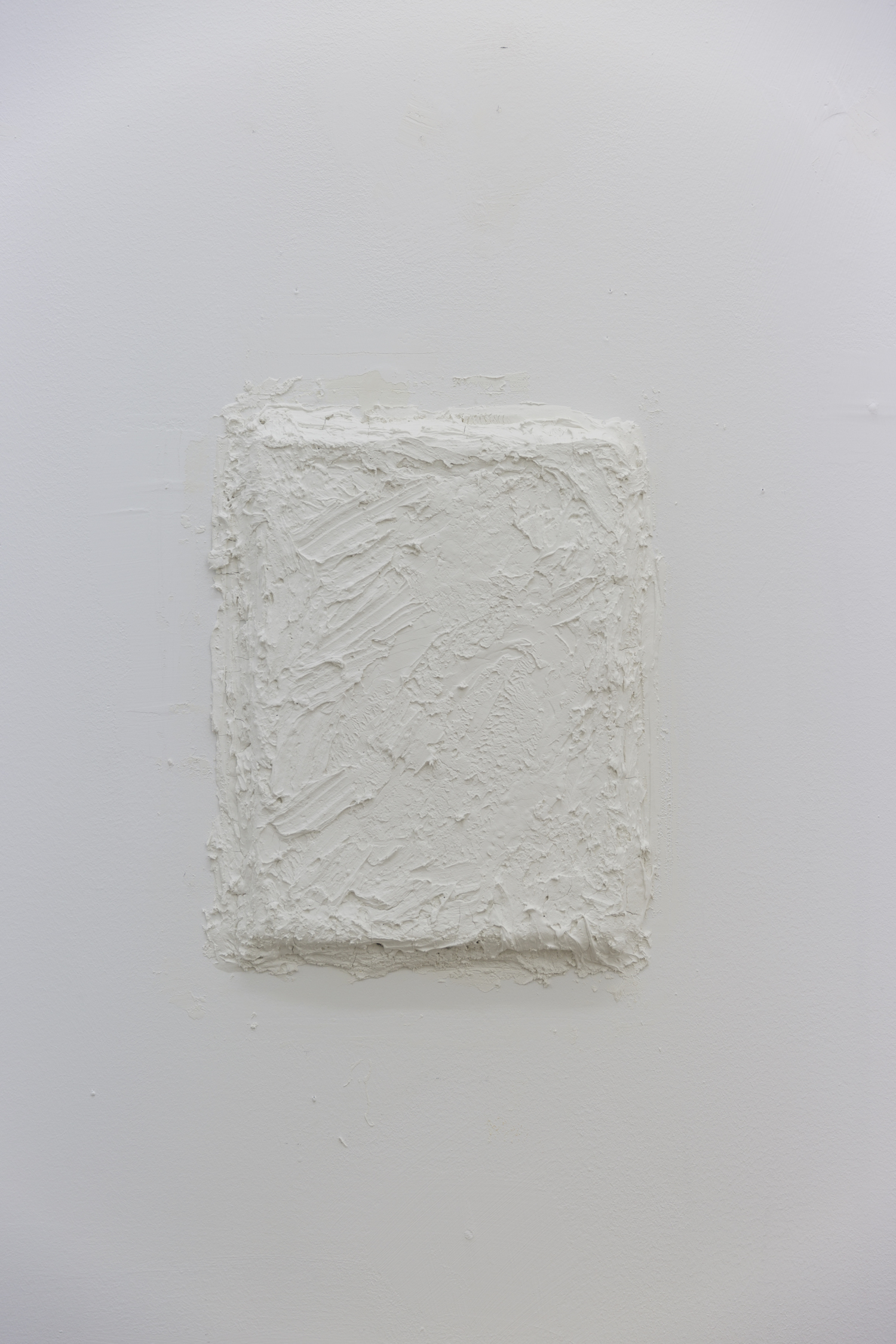 Charbel-joseph H. Boutros
…
2016
The framed plan of the artist's previous solo-exhibition " I stood in the middle of the strait of Gibraltar and I dropped my left tear in the Atlantic ocean, and my right tear in the Mediterranean sea." is buried in the current show
Dimensions variable

Stéphanie Saadé
2014-2018
Vase broken in fragments
Dimensions variable
Unique variation no. 3

A vase is broken into smaller and smaller fragments, until part of it is reduced to powder.
Stéphanie Saadé
Travel Diary
2014 – 2018
Used document, 24-carat gold leaf
21 x 29.7 cm each
Unique and part of an ongoing series
Gold leaf is applied on the plights and creases formed on travel documents when used by the artist to leave and return home.
Stéphanie Saadé
The Day in Order
2015
Plastic ruler, acrylic paint
3.4 x 51 cm
Unique variation 2/3

A day sky is painted at the back of a plastic ruler. The rational tool is subjected to the whim of a reverie.
Michael John Whelan
These last breaths (diptych)
2018
Chromogenic prints, frames treated with Persian Gulf seawater.
30x40 cm
Edition of 5 + 2AP
Michael John Whelan
Aqua Lung (no. 20)
2018
Blown glass object made from sand obtained from a site of Jacques Cousteau's 1954 Anglo-Iranian Oil/British
Petroleum Company sponsored survey.
9.2(d) x 25.4(h) cm
Unique
Michael John Whelan
Aqua Lung (no. 21)
2018
Blown glass object made from sand obtained from a site of Jacques Cousteau's 1954 Anglo-Iranian Oil/British
Petroleum Company sponsored survey.
13.5(d) x 18.4(h) cm
Unique
Aqua Lung (no. 23)
2018
Blown glass object made from sand obtained from a site of Jacques Cousteau's 1954 Anglo-Iranian Oil/British
Petroleum Company sponsored survey.
10.8(d) x 16.4(h) cm
Unique
Michael John Whelan
Inclusions (LED party balloon)
2018
Cast concrete cube containing a LED party balloon retrieved from the Persian Gulf.
15x15x15 cm
Unique
Installation view / CONDO Unit Athens hosted by The Breeder
Installation view / CONDO Unit Athens hosted by The Breeder
Installation view / CONDO Unit Athens hosted by The Breeder